How to join us
Brochure of Kamiya-Katase laboratory are available.


For Bachelor, Master, and Doctor course students

We welcome all students who would like to join us. Don't hesitate to contact us anytime.

Tokyo tech has INTERNATIONAL GRADUATE PROGRAM (IGP) as an opportunity for qualified international students, who may have little or no knowledge of the Japanese language, to enroll in Tokyo Tech's master's or doctoral programs and pursue advanced degrees in Japan.
More detail informations are described below or at URL.


IGP(A), IGP(C)
Most of the international student enroll in Tokyo Tech via these progarms, because there is no Japanese language requirement for this program as lectures and seminars are held in English.
In addition, students are given opportunities to attend Japanese language classes on a regular basis in order to better adapt to daily life in Japan.
IGP (A)
---
Type of Programs:
Master's Program, Integrated Doctoral Education Program
Admission Period:
September
Latest Application Guide:
here
*This is the Integrated Doctoral Education Program and Master's Program. Some curricular programs are set up as an Integrated Doctoral Education Program, designed to combine the Master's Program and Doctoral Program so that graduate students can obtain both degrees within three to five years.
IGP (C)
---
Type of Programs:
Master's Program or Doctoral Program
Admission Period:
April and September
Latest Application Guide:
here
*There are two periods of admission to this program: the Spring Program (admission in April) and the Fall Program (admission in September).
About scholarship;
*A limited number of students with outstanding academic records are eligible to apply for a scholarship from Japanese Government (MEXT). The scholarship provides round-trip airfare to Japan, and a monthly stipend according to the regulations of MEXT. The monthly stipend is ¥147,000 (JPY) for Master's Program students and ¥148,000 (JPY) for Doctoral Program students.
*Applicants who enroll in Tokyo Tech without the Japanese Government (MEXT) Scholarship have a chance to apply for the "Monbukagakusho Honors Scholarship for Privately Financed International Students" from the Japan Student Services Organization ("JASSO").
For Post-doc positions

If you are interested in our group, please send e-mail to Kamiya(tkamiya[at]msl.) or Katase(katase[at]mces.).
Please add "titech.ac.jp" at the end of each address.


Lab. life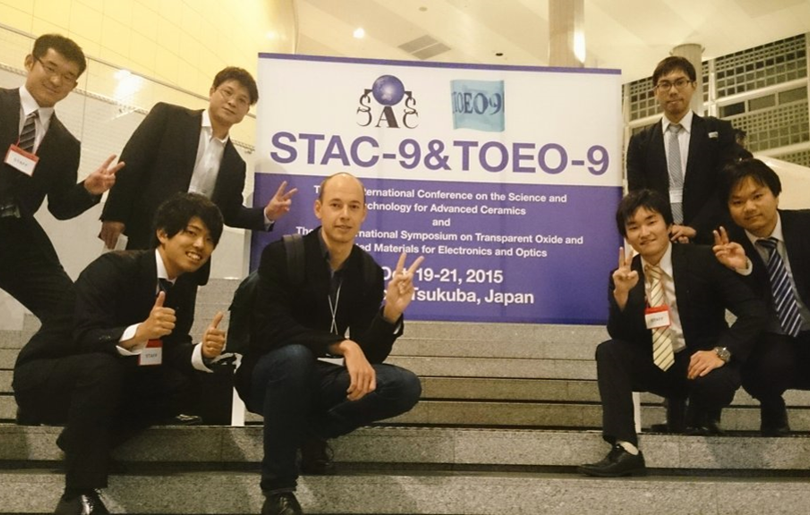 Annual schedule
---------------------
Apr.: Welcome party
May: Campus visit (Open campus)
Jul.: Interim progress report, Party
Aug.: Summer vacation, BBQ party
Sep.-Dec.: Conference (JSAP meeting, CSJ meeting, etc.)
Dec.: Interim progress report, Party, Winter vacation
International conference (MRS meeting etc.)
Feb.: Master & bachelor course presentation, Party
Mar.: Farewell party, Conference, Graduation ceremony
---------------------

A desk and a PC are provided for each student. There is no hours on duty, but we basically recommend students to come to school at 10:00AM in weekday.
We take a laboratory seminar periodically once a week, where students can discuss and get advices from teachers.
We jointly manage Lab. with Hosono, Hiramatsu, Matsuishi group, so we have currently 25 students including 10 international students.